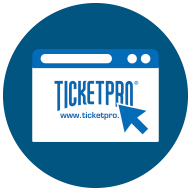 Media
For more details concerning our logo usage and media partnerships, please contact our Marketing department at: [email protected].
Refer your graphic designers to our downloads below.
LOGO
This vectorial file can be opened with all Adobe Reader, Adobe Illustrator and Adobe Photoshop applications. Adobe Reader can distort some graphic elements; zoom in for best results.
Download Ticketpro logo
Last version: 07/18/2018