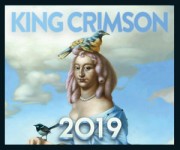 King Crimson

SOLD OUT

As part of a series of events and releases for their 50th anniversary, King Crimson's 2019 tour will include special concerts across three continents, including both festivals and headline shows.

The band's packed three-hour shows will include material from twelve of their thirteen studio albums, including many of the songs from their seminal 1969 album, In The Court of the Crimson King, described by Pete Townshend, as an "uncanny masterpiece". The new 8-piece line-up plays many historic pieces which Crimson have never played live, as well as new arrangements of Crimson classics – "the music is new whenever it was written". There are also new instrumentals and songs, as well as the compositions by the three drummers, Pat Mastelotto, Gavin Harrison and Jeremy Stacey, which are a regular highlight. A unique show, where eight of the best musicians in the world play music without distraction or adornment.

KING CRIMSON MUSICIANS: Robert Fripp, Tony Levin, Jakko Jakszyk, Mel Collins, Gavin Harrison, Pat Mastelotto, Jeremy Stacey and Bill Rieflin.

No photography or Recording permitted during the concert.



Buy tickets