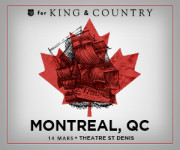 For King & Country

for KING & COUNTRY is thrilled to announce burn the ships | world tour 2020: CANADA!


Joel & Luke would personally like to invite you to this groundbreaking 'ENCORE' of their most theatrical and inspirational night of music and stories yet. In 8 different cities across the great country of Canada, they will take the stage at the top of each show and play more music than ever before – including every song off their most recent album, Burn the ships, all of your favorites and maybe even an unreleased song, continuing their most elaborate yet intimate production yet. They cannot wait to embark and continue on this voyage with you!


POSTPONEMENT OF THE SHOW FOR KING & COUNTRY
In order to comply with the recommendations issued by the Government of Quebec to limit the spread of Coronavirus, the St-Denis Theater and Ticketpro would like to notify you that the FOR KING & COUNTRY show scheduled for this Saturday, March 14, has been postponed to August 17, 2021.
We ask you to keep your tickets, they will be honoured on the new date of the show.

Thank you for your understanding.



Buy tickets